Zeeshan Ali
Senior Investment Director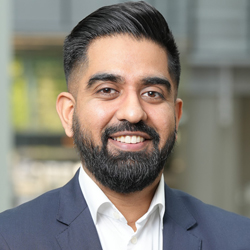 Zeeshan Ali
Senior Investment Director
Zeeshan is an impact-driven leader with a passion for supporting founders at the earliest stages of their startup journey. Prior to joining IAF, Zeeshan led the Business Development function at MaRS Discovery District, creating a platform for the Canadian startup ecosystem to collaborate and engage with corporates with a goal to accelerate technology commercialization at the global level.
Before joining MaRS, Zeeshan led mergers & acquisition and corporate strategy initiatives at Algonquin Power & Utilities Corp., acquiring over $2 billion of infrastructure assets across the company's diversified portfolio. Zeeshan played an active role in enabling growth pathways, scaling into strategic markets and adopting leading-edge technology platforms. Zeeshan started his career at PwC where he provided consulting and advisory services to leading corporations in the Healthcare, Energy and Technology sectors.
Zeeshan is a Chartered Professional Accountant and Chartered Business Valuator. He holds a Bachelor of Commerce degree from the University of Toronto. Zeeshan is actively supporting the early-stage startup ecosystem, mentoring and advising founders at Creative Destruction Lab in Toronto and MITDesignX in Boston.